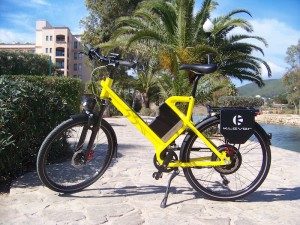 The pedal-assist bicycles from Klever Mobility gives us the ability to do moderate exercise while visiting the island. In fact, with a little patience, you can visit almost any point on the island in a week and keep yourself fit or get initiated on bike riding.
The B25 and S25 of Klever Mobility are among the first vehicles designed from the outset to be pedal-assist bicycles.
They have a fairly rigid frame and are especially agile in the city where they are very agile. Also good for medium range distances such as city to city or commuting.
B25
The B25 model has full suspension which coupled with its low center of gravity and disc brakes, make this model one of the most stable and safe in market.
The frame designed by Adriana Monk, formerly working for BMW, was exclusively done to house the Biactron system.The frame is very strong but also absorbs road vibrations and movements of the rider, and so maximizing effort. Design work that won the Red Dot Award and Eurobike 2013.
The Biactron system has a super quiet direct drive engine with no friction parts, a good battery and a controller to which various sensors send the frequency and strength applied to the pedaling, speed and battery capacity. With these data the controller integrates the power provided by the engine to our cadence.
S25
It is sportier than the B25 which has a more upright posture. Suspension on the front whee.l
The battery is well integrated into the frame and easily accessible.
It looks great. It is robust, silent and very manageable.
Main characteristics in both models
.- Quite easily maintain an average of 22-23Km / h on all routes.
.- Motor 250W rear wheel. Quiet as it has no gears.45 Nm of torque.
.- Tektro hydraulic disc brakes HDC300.
.- 70 Lux Front light. They are very powerful. More than enough to do some night traveling.
.- Very short charging time. Only 1.5 hours to fully charge the battery with the fast charger if it is totally empty.
.- Front suspensions 50 mm. The B25 model has full suspension.
.- Range of between 35-85 km. Depends on the weight, the headwind, distance climbing, and assistance used.
.- With Shimano 10 speeds. It helps us find the best cadence at all times.
.- Designed to be rigid but flexible. The island becomes smaller and accessible.
Timesheets on certain routes:
.–Santa Eulalia Ibiza – Ibiza: 16 km – between 37-43 minutes. Wide side shoulder to feel safe.
.- Ibiza – San Antonio – Ibiza: 16 km – between 37-45 minutes. Also with a wide side shoulder.
.- Santa Eulalia – San Miguel – Santa Eulalia: 16.5 km – between 37-45 minutes. Slower from Santa Eulalia to San Miguel. No shoulder but you can go using different small roads.
.- Santa Eulalia – San Carlos – Santa Eulalia: 6.2 km – 15-20 minutes. It is faster from San Carlos.
.- Ibiza – Salinas – Ibiza: 10 km – 25 to 30 minutes
To calculate times think of 20 km/h or 3 minutes per kilometer.
eBikes to explore the island in a relaxed way, as if floating over it. Still fast enough to do your errands faster than with a car.
Go ahead and rent a Klever, have fun good time.
Please be careful driving on the roads, with traffic or not. Be respectful.